Find healing in Dōgo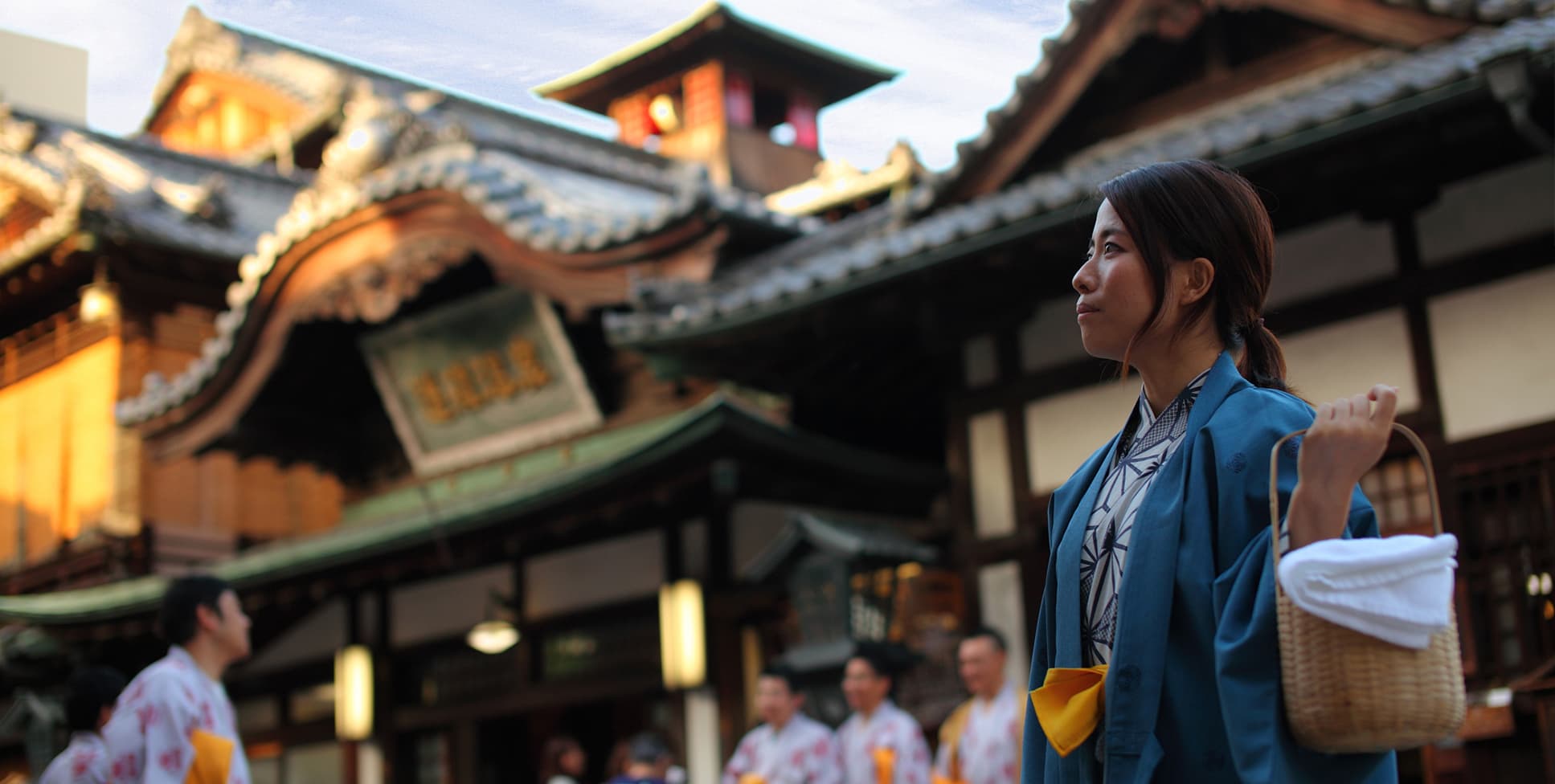 Mentioned in literature as far back as Kojiki (Records of Ancients Matters) and Nihon Shoki,
Dōgo Onsen is said to be Japan's oldest hot spring.
Legend has it that an egret with an injured leg found this hot spring and healed its sores.
In the old days, it is also said that Prince Shōtoku bathed in the springs.
The colorless and transparent gentle hot spring is noted for its curing effects from continued use as well as for beautification benefits.
Tourists and locals alike enjoy the three sotoyu one-day bathing facilities open to the public
– Dōgo Onsen Honkan, Dōgo Onsen Annex Asuka-no-Yu, and Tsubaki-no-Yu.
After relaxing in the hot water, get out and cool your flushed body doing whatever you feel like doing,
whether its shopping at the mall, treating yourself to a gourmet dish,
or taking in Dōgo's art exhibits that have been gaining popularity in recent years.
Dōgo Onsen Honkan, where your eyes, ears, skin, body – all of your senses come alive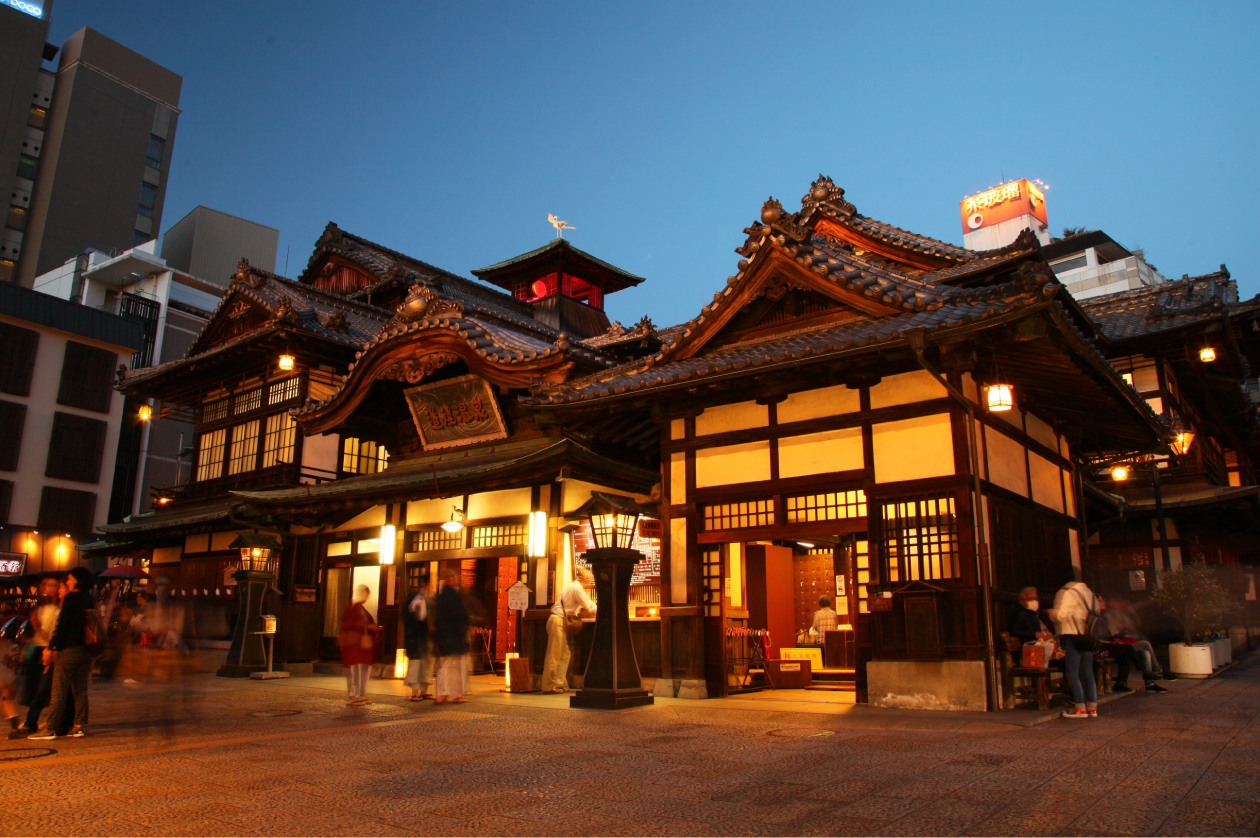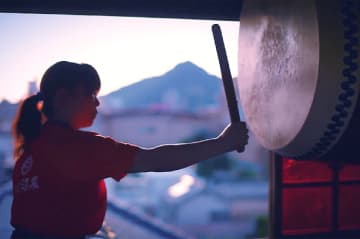 The Dōgo Onsen Honkan is the symbol of Dōgo. In 1994, it became the first public bath to be designated a national important cultural property and in 2009 won the highest recognition of three stars by Michelin Green Guide Japan. What is wonderful about Dōgo is that although it is a culture asset, it remains a public bath without being converted into a museum. Some of the bathing areas will continue to operate during preservation and repair work scheduled for seven years from 2019.
Renovations and expansions of the three-tiered wooden building were made throughout the Meiji, Taishō, and Shōwa periods, resulting in a maze-like structure with narrow hallways and stairs intertwined. It's no wonder it's rumored as a model for the anime movie Spirited Away.
The red giyaman glass fitted into the Shinrokaku, a watchtower set at the top of the building, creates an exotic atmosphere. Here, the Toki Daiko is struck three times a day, informing Dōgo of the time. In 1996, the sound of this drum that has been an important part of Dōgo's culture since the Meiji Period was selected as one of Japan's Top 100 Soundscapes, to leave to future generations.
See more about Dōgo Onsen Honkan
---
Rejoice in the soothing hot spring experience and stimulating art at Asuka-no-yu

Dōgo Onsen Annex Asuka-no-yu is the newest bathhouse that opened up in 2017. Based on Asuka Era imagery, it acts as a center for transmission of a brand new onsen culture that brings together traditional Ehime crafts and present-day art, under the theme of ancient Dōgo. It's a hot springs experience that you can only have here.
There are four bathing courses including the bathing only course on the first floor and three courses that combine the use of resting rooms. There are three types of resting rooms; the large public lounge, private rooms, and special private bathing rooms. All of them offer complementary tea and Japanese sweets.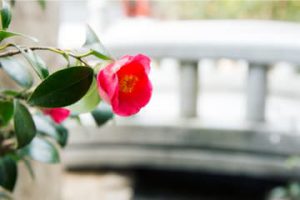 In the building, you can see expressions of various forms of art using the traditional crafts of Ehime Prefecture. Focus your eyes on the details at the entrance, bathing rooms, resting rooms, and even the hallways and stairs.
You can find places of interest outside the building, too. Tsubaki-no-Mori in the courtyard was created in the image of an anecdote praising a beautifully lush camellia that Prince Shōtoku praised and admired when coming to bathe at Dōgo Onsen. The camellia also became the flower of Matsuyama City. There is a fountain in the square that periodically rises from the cobblestones, offering a space for children to run after the splashes, for people taking photos of the scenes with their cameras or for those just sitting down for a break. It's a place where everyone can gather and relax.
---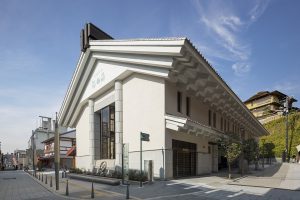 On the opposite side of the courtyard is the Dōgo Onsen Tsubaki-no-Yu, the sister bath of Dōgo Onsen Honkan. It is a public bath with a casual atmosphere where many of the local bathers say they go to every day. If you soak in the hot water and engage in conversation with the locals, you might get some information about places to see along the hidden track.
See more about Dōgo Onsen Tsubaki no Yu
---
Strolling in yukata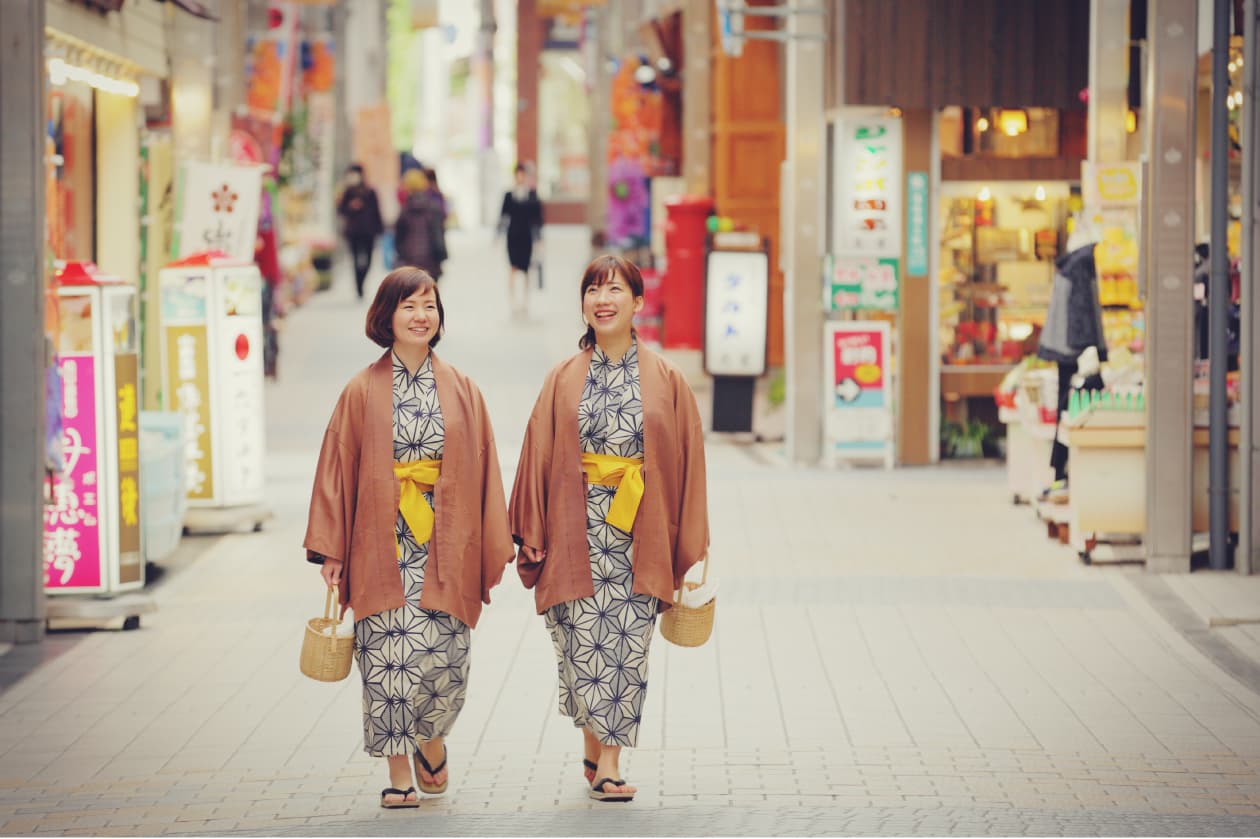 Around Dōgo Onsen, there are lots of Japanese-style ryokan and hotels. Whatever the accommodation, it will have a rotenburo, communal bath, family bathroom and so on, with water drawn from the Dōgo Onsen spring, and yukata for after your bath. If you potter through Dōgo in geta clogs holding your basket of bath accessories, you can experience the true charm of this spa town. You can walk from your hotel to Dōgo Onsen Honkan, stroll around the shopping arcade, and try out the hand and Footbath here and there.
See more about Foot and hand bath
See more about Botchan Karakuri Clock
---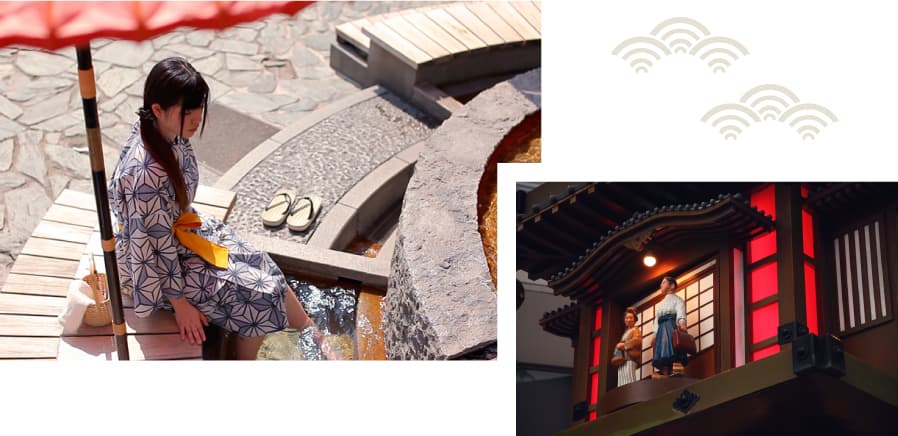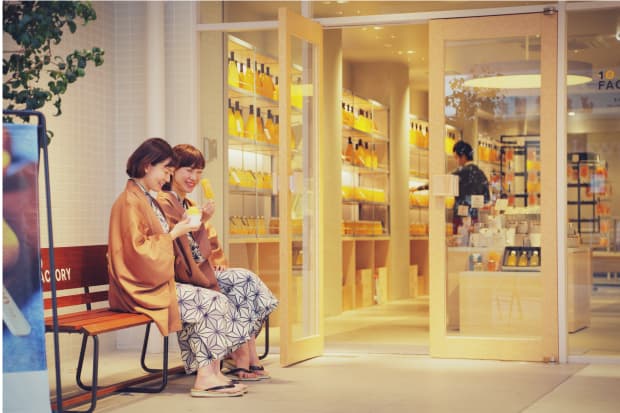 Dōgo Shopping Arcade is lined with over 60 shops and restaurants. You can enjoy browsing for souvenirs, and relaxing or dining in stylish cafés. The Japanesque souvenirs typical of Matsuyama and its environs – bamboo ware, Tobe ware ceramics, Hime Daruma dolls – are highly recommended.
There are characterful cafés, and the Japanese-style café with its traditional inner garden is particularly popular.
There are many discoveries to be made – shops specializing in sweets made from Ehime's key product, citrus, shops dedicated to the Imabari Towel brand, Japan's best quality towels and so on.
See more about Dōgo Shopping Arcade
---
Encountering Art in Dōgo – a new way to explore the Dōgo area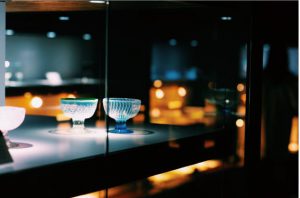 Dogo Onsenart 2014, an art festival commemorating 120 years since the reconstruction of Dōgo Onsen Honkan was a grand, spectacular festival that lasted a whole year. Sound, light, and art works decorated the Dōgo Onsen Honkan and the entire Dōgo area, where the guestrooms became "artwork to spend the night in".
This initiative has been carried over in the following years since as Dōgo Art through Dōgo Onsenart 2018 and the project is in the process of continuation from 2019 going forward, as well.
Some of the works are only on display for a limited time and others are exhibited continuously. Make your Dōgo walking tour artistic by keeping an eye out for object and productions that blend into the scenery.
Visit the Dōgo Giyaman Glass Museum for its collection of glass items from the Edo, Meiji, and Taishō eras, or the Seki Art Gallery with exhibits of modern Japanese art and Rodin works. You'll see that Dōgo has infinite possibilities.