2022.04.181,535
All aboard! ♪ Traveling around Matsuyama City by tram ②
DōgoWithin the city and other areas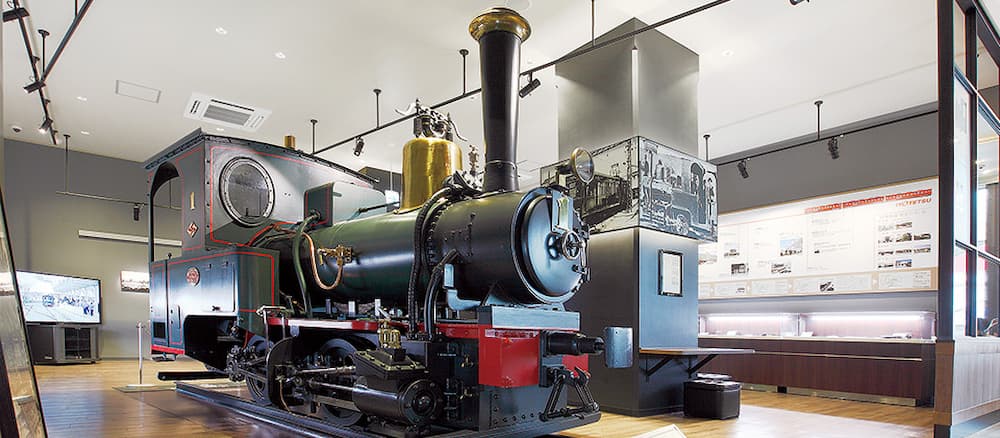 Learn even more about the ins and outs of Matsuyama's trams! Let's explore some special destinations, from uncommon attractions to tourist facilities, for even greater enjoyment of tram-riding in the city.
Botchan Train Museum: A railway museum with free admission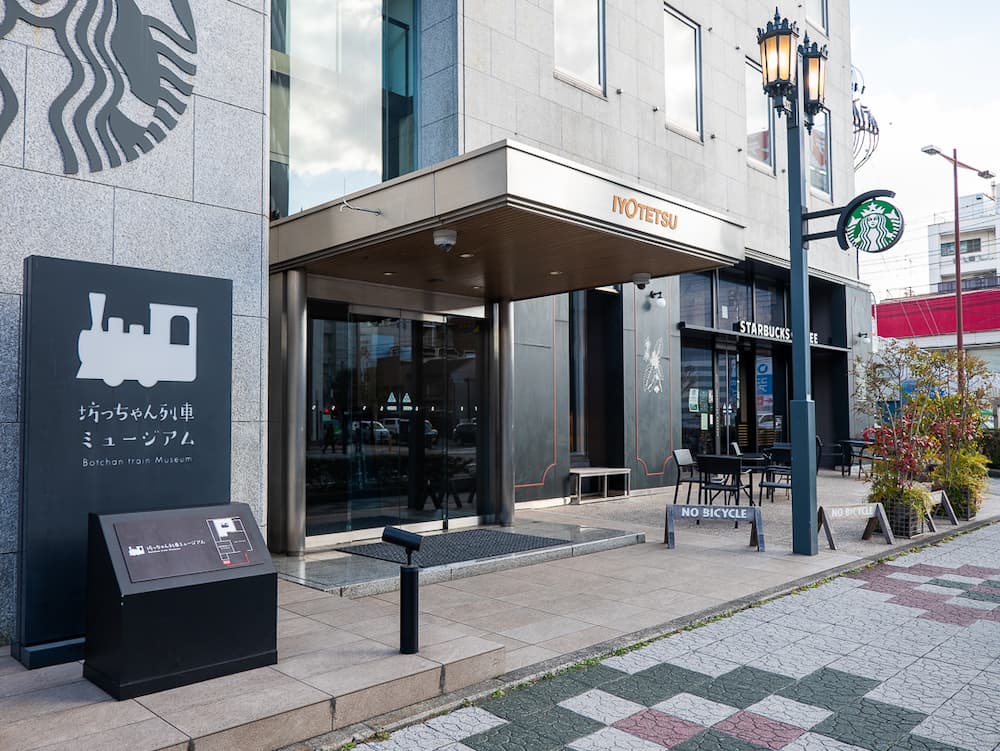 Botchan Train Museum: A railway museum with free admission
With displays ranging from rare train parts to charming dioramas, a must-see for railway enthusiasts.
It's worth making an effort to stop in before your ride on the Botchan Train here where you will get to learn about the history of Iyotetsu that dates back to 1887.
The Botchan Train that chugs along through the Matsuyama city limits was made by replicating the steam locomotives that operated for 67 years starting in 1888 and giving them a contemporary update.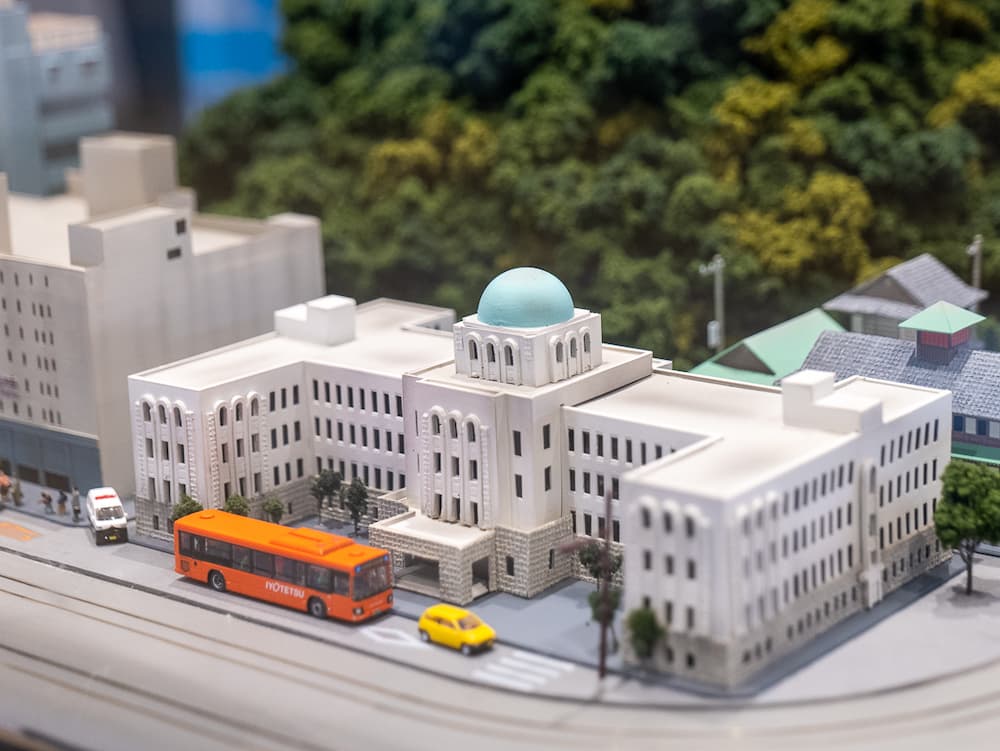 Visitors to the Botchan Train Museum can drop in and out of the adjoined coffeeshop.
Enjoy looking at the museum's displays with a delicious cup of coffee in hand, from a full-scale replica of the Iyo Railway No. 1 Locomotive, which was built reusing the main parts from the No. 3 Locomotive, to a charming railway diorama.
A 3-minute walk from Matsuyama City Station, a main hub with convenient access to sightseeing destinations. Enjoy a slightly out-of-the-ordinary café break and brush up on Botchan Train-related knowledge before embarking on your ride.
More details on the Botchan Train Museum here
Official Iyotetsu site: Botchan Train Museum (External site)
Cool retro character! The Komachi Depot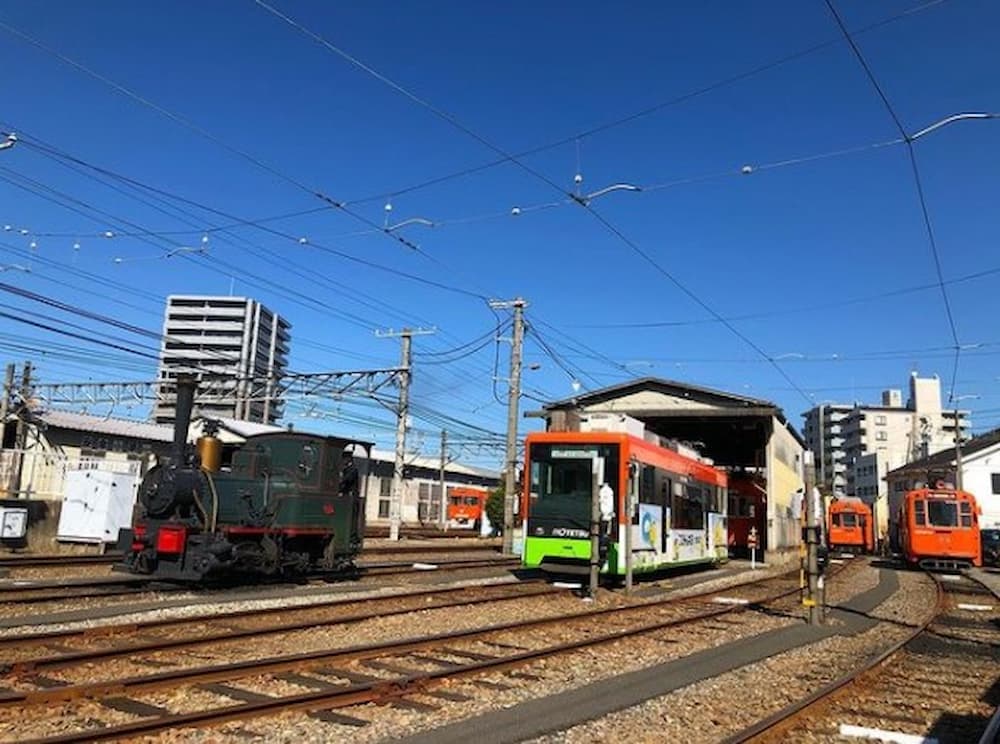 The Komachi Depot is visible from Komachi Station. Here is a railyard where you will see tram cars and railway trains lined up in rows.
With luck, you might even catch a glimpse of a railway train getting washed clean right from the platform! As you roll in toward Komachi Station, make sure to keep an eye peeled for the Komachi Depot.
Exceedingly rare nationwide! The Diamond Cross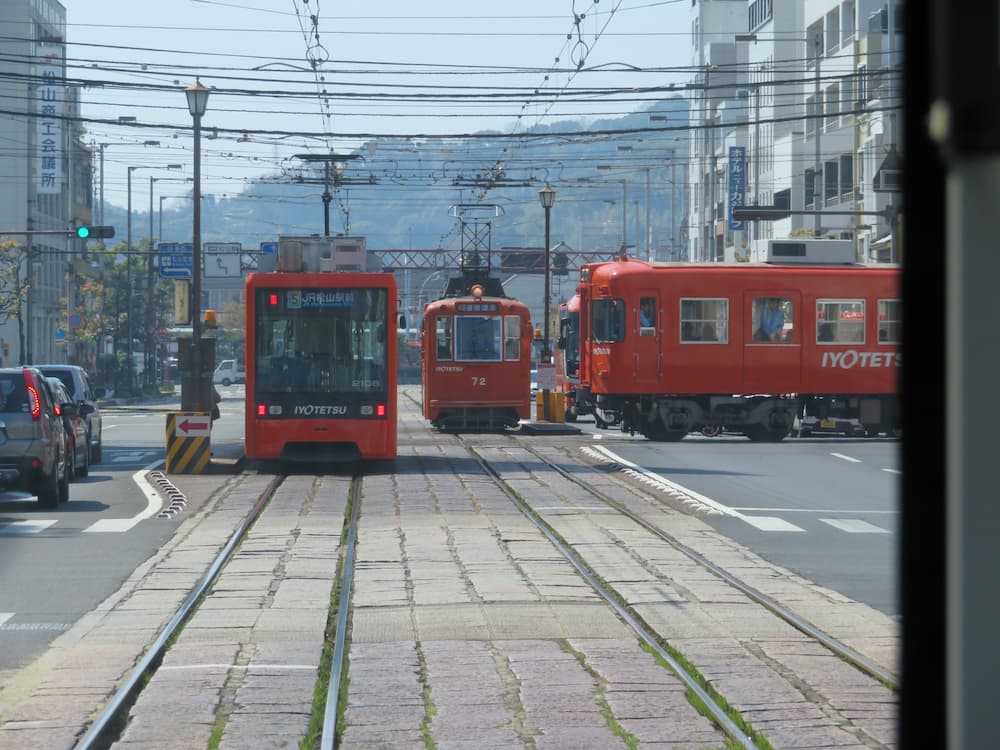 A diamond crossing is a level junction where railway tracks cross over each other. In Ōtemachi is a diamond crossing where a railway line intersects perpendicularly with tram tracks.
The "Diamond Cross," located right here in Matsuyama, is actually the only one of its kind that can be seen anywhere in Japan.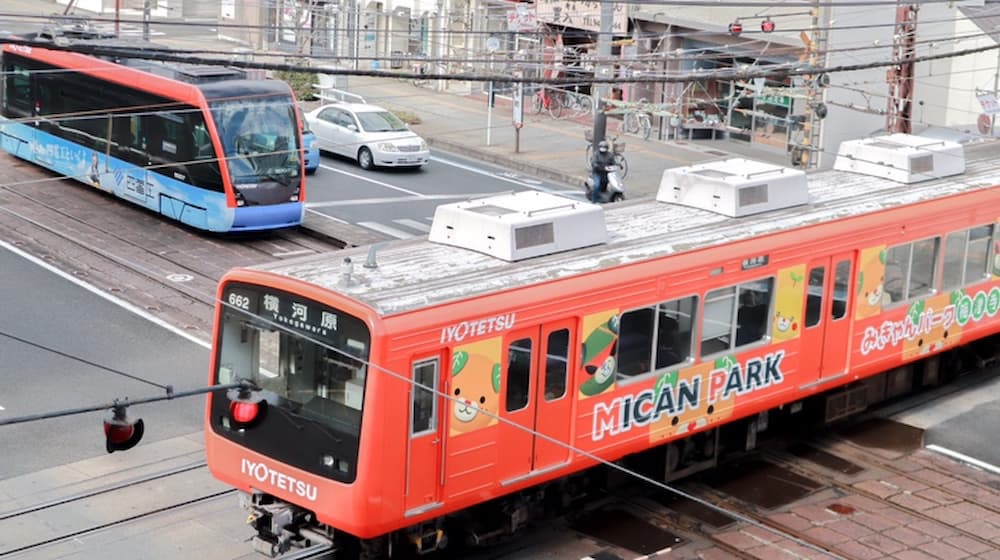 In front of this crossing, where the Takahama Line, a railway line running north-south, and tram tracks running east-west, cross each other at right angles, you might watch a tram waiting a railway train to pass by.
And if you're really lucky, with just the right timing, you might catch the moment the Botchan Train chugs across!
More details on the Diamond Cross here
Photogenic spots visible from tram windows!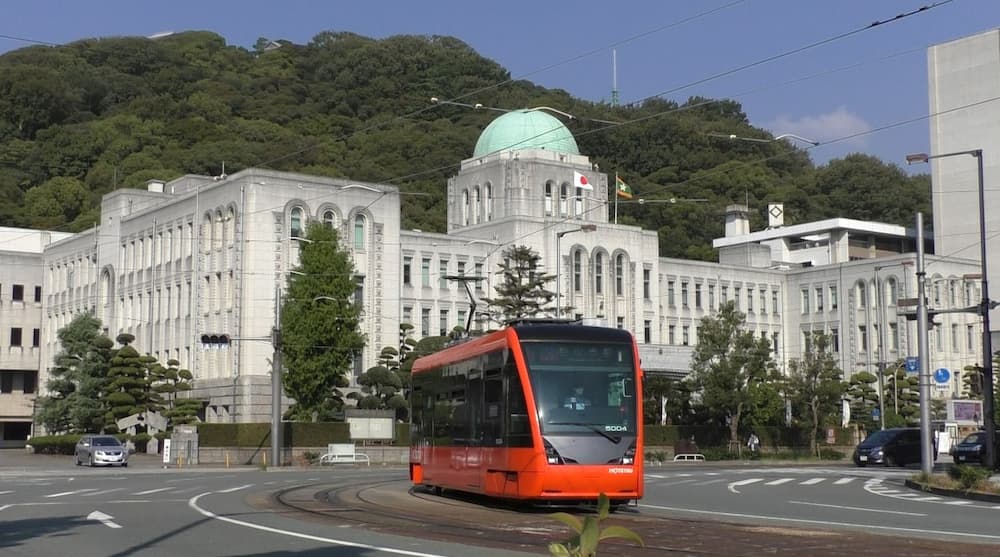 Take a good luck out the window between the Shiyakusho-Mae (City Hall) and Kenchō-Mae (Prefectural Office) stations! You should get a view of the Ehime Prefectural Government Office Honkan, a nationally registered tangible cultural property featuring retro architecture.
Keep an eye out for seasonal sights of scenic beauty when you head out as well. In springtime, cherry blossoms in full bloom can be enjoyed around Minami-Horibata and Shimizumachi, and in autumn the area around Dōgō-kōen Park takes on vivid red and golden hues from turning leaves.
A stylish tram amenable to overseas visitors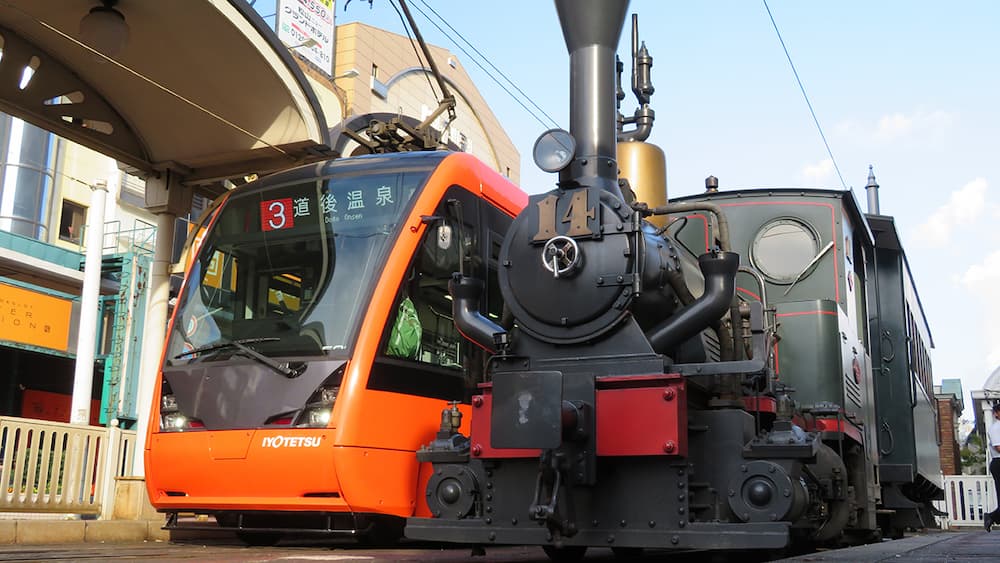 With their modern forms allowing step-free entry, the new LRT 5000 series and box-shaped 2100 series tram cars make it easy for anyone to board.
Destinations are displayed in both Japanese and English, and onboard announcements are provided in English as well. This makes travel easy for everyone, including visitors from overseas who may sometimes feel apprehensive about where their train is headed.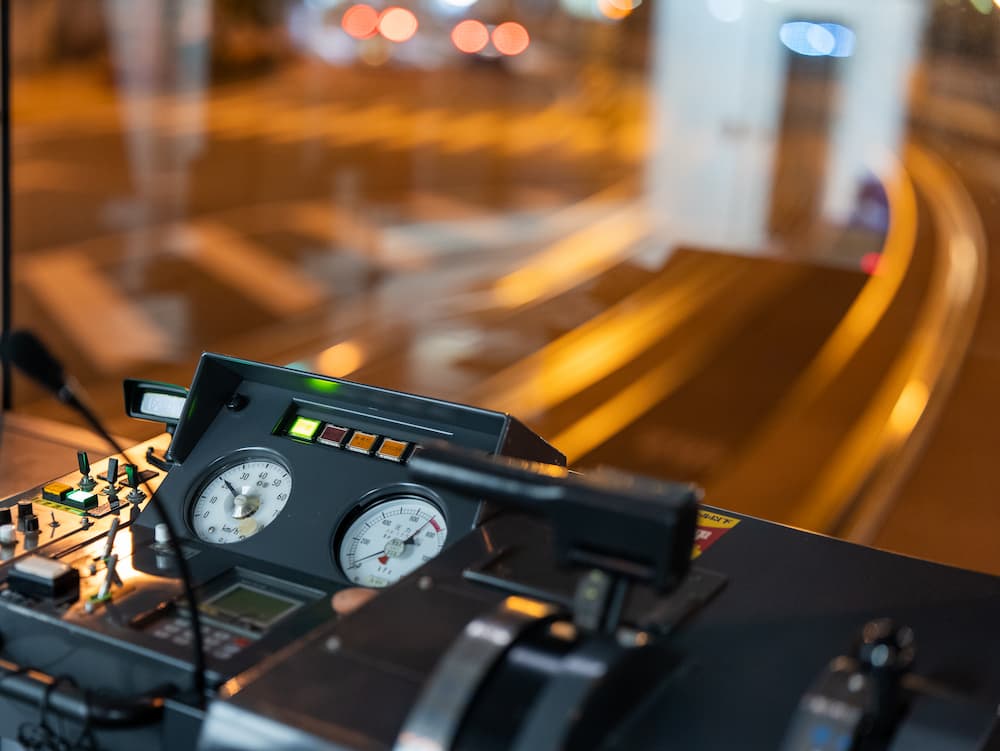 Slightly raised special box seating located at the front and rear of the new LRT 5000 series cars is a big hit with small children.
Riders can enjoy watching the scenery change as the tram travels on, viewed over the conductor's seat, and hearing the immersive sounds emitted as the conductor operates the steering wheel.
An overnight stay surrounded by tram memorabilia?!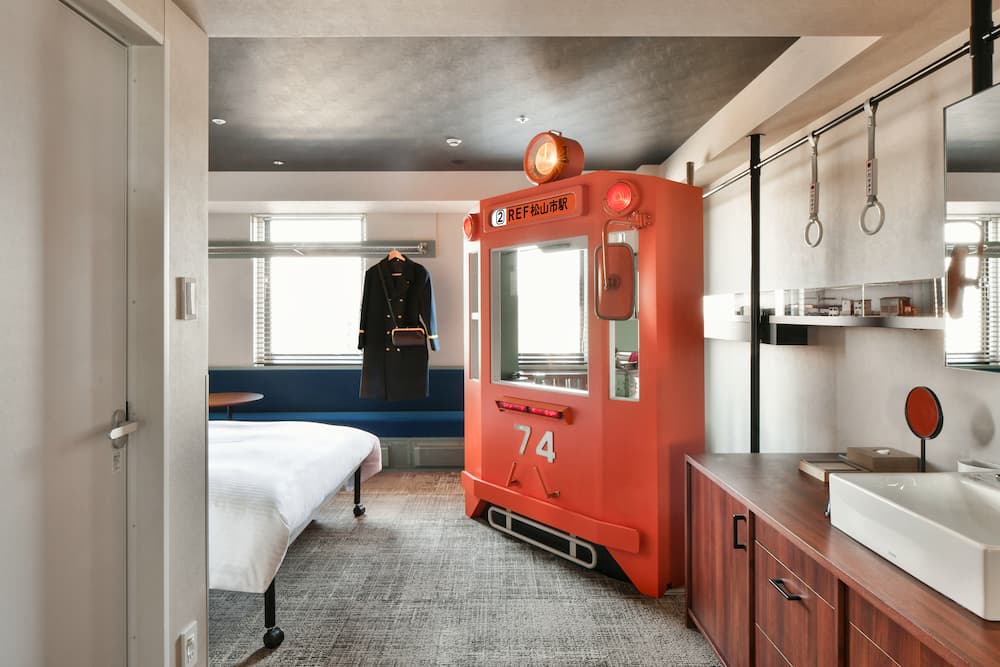 Next to Matsuyama City Station is a hotel offering a special railway-themed room decorated with streetcar-related accessories, including a conductor's seat, hanging straps, and an overhead luggage rack that saw actual use on an Iyotetsu MoHa 50 series tram made in 1963–1964 and used by Iyotetsu.
Try dressing up in a conductor's uniform, available for rental here, and situate yourself in the conductor's seat, which is set up with a television monitor in front of it to show scenery passing by as the tram speeds along… Put your hands on the various gauges, flip the headlights on, and sound the buzzer…
This is a special hotel offering guests a taste of how it would feel to be a tram conductor themselves.
With a streetcar model (N scale), commemorative tickets, and more on display as well, the room presents a fully realized vision of the world of trams!
Railway enthusiasts, and even guests who don't take a particular interest in trains, are sure to have a fun and exciting stay here!